Holiday Villa Pantai Indah Bintan
4 Stars ★★★★ | Last Updated: Aug 20, 2018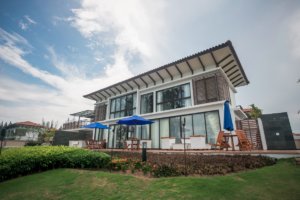 Private Pool and Outdoor Area
Holiday Villa Bintan is a new and exclusive villa-style accommodation that offers nothing but the best to its guests with its 1 and 2-bedroom pool villas.
This one-of-a-kind resort is just 15-min ride away from the Bandar Bentan Telani (BBT) Fery Terminal.
Although the focus is on the leisure market, Holiday Villa Bintan is also more than capable of hosting business and group meetings and banquets.
Holiday Villa Bintan offers a luxurious getaway with its 1 and 2-bedroom spacious villas that come with amazing swimming pools, outdoor pavilions, pristine furnishings, and comprehensive facilities.
Each also has a living room, kitchenette bar and utensils, a bath tub and shower. A 1-bedroom villa comes with a king-sized bed while a 2-bedroom villa comes with a king-sized bed and 2 single beds.
Holiday Villa Bintan has a different weekend and weekday charge. It levies additional surcharges on some public holidays. If you have a flexible schedule, you could consider going on a weekday for some savings.
As much as possible, plan your Bintan trip accordingly so you won' need to incur unnecessary additional charges.
In terms of our prices, service quality, package selection, and total number of bookings over the years, BintanGetaway is Singapore's number 1 Bintan travel site. Be sure to book with us for your upcoming Bintan holiday!
Holiday Villa Pantai Indah Bintan
Room

Facilities

Location

Food & Drinks

Value for Money
Our Verdict
1. Unique & spacious private-pool villas
2. Wide range of land and wataer activities
3. Large compound with a wonderful private beach
Comments Rating
( review)
Share Your Experience With Us