2D1N Bintan Tour Package + Ferry + Resort + Lunch + Massage
Searching Availability...
What Is Bintan Ferry + Resort + Massage + Tour Package
Also known as 2D1N Bintan Tour Package, this package includes 2-way Bintan ferry tickets from and to Singapore, accommodation with breakfast, 2-way Bintan land transfers, a South Bintan city tour with local set lunch and a 60 minutes massage.
During the tour you will visit South Bintan – Tanjung Pinang main attractions on a coach with other travellers, accompanied by a bilingual (Mandarin & English) guide.
Why Book a Bintan Tour Package
If you have never been to this unique Indonesian island and would like to explore the island's main attractions with a guide, this would be the perfect package for you. Alternatively, if you have already visited the main Bintan attractions before and prefer to discover the rest of the island at your own pace, you can opt for the basic 2D1N Free & Easy Bintan Resort + Ferry Package.
Whether you are travelling alone, as a couple, with friends, or family members, this 2D1N Bintan Tour Package from Singapore is suitable for anyone!
For a similar destination to consider, you might want to check out our Batam packages on BatamGetaway.com.
Most travellers typically book a 2D1N (2 Days 1 Night) Bintan Package for a short weekend getaway from Singapore. You may also opt for a 3D2N (3 Days 2 Nights package) with an extension night added to the package. Whenever possible, consider travelling on a weekday to enjoy the resort facilities and travel services without having to beat the crowd.
In addition, you could enjoy more savings during weekdays as it is considered the low season in Bintan. Bintan is most crowded with tourists during public & school holidays, so that's when hotels and resorts would implement additional peak surcharges.
How To Book – Bintan Tour Package
Booking our 2D1N Bintan Tour Package gives you not just the lowest possible price, but also the most convenience in 3 easy steps.
1. Navigate to our Packages page.
2. Select your preferred Bintan Hotel or Resort, room type, travel dates, ferry timing, and number of travellers.
3. Depending on your preferred resort stay, select the available packages. (Basic would be free & easy). Select Basic + South Bintan Tour with Lunch + 60 Mins Body Massage in Town.

4. Input all travellers' details
5. Make your payment by credit /debit card. Done!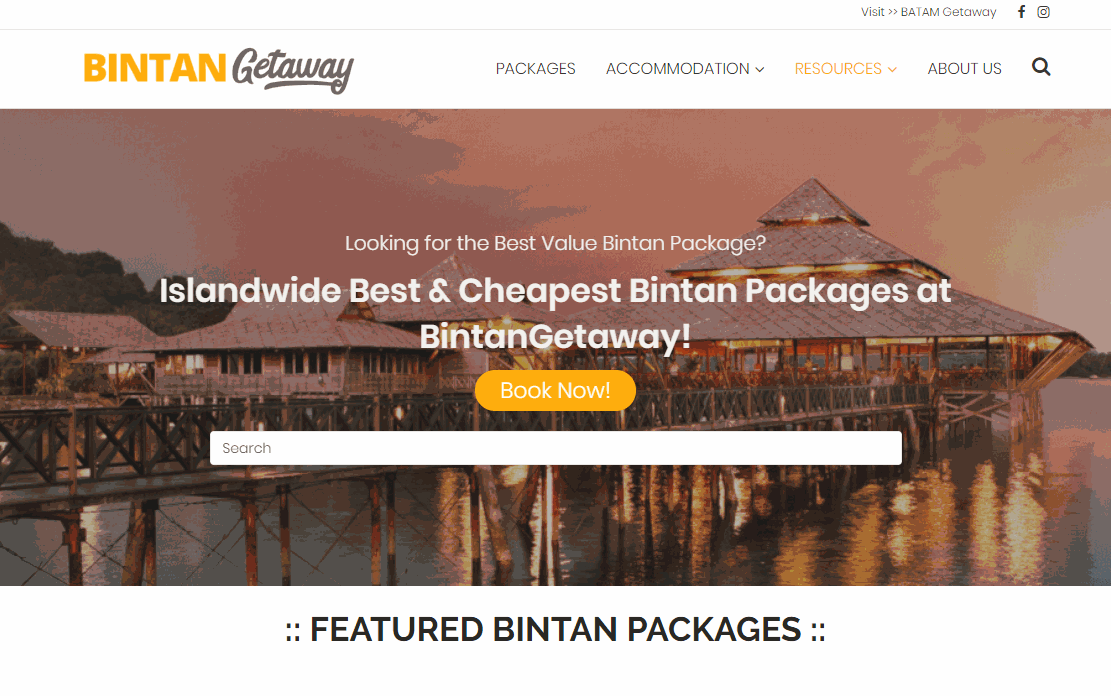 S$559 /pax, 2D1N Sanchaya Bintan Package + Ferry [Discounted Promotion]. Optional Massage / Bintan tour with lunch. Book with Singapore's No. 1 Bintan site