:: FEATURED BINTAN PACKAGES ::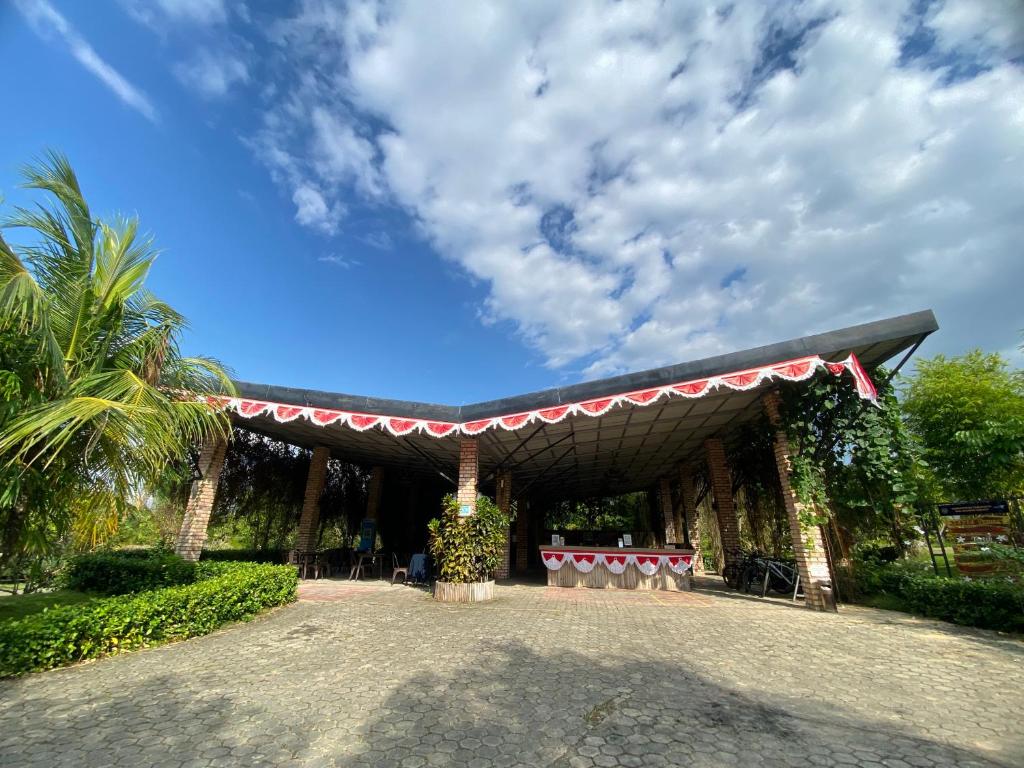 fr. 202 p.p
S$202 /pax, 2D1N D'Bamboo Kamp Bintan Package + Ferry [Discounted Promotion]. We are Singapore's No.1 Bintan site. Book online now.
For many of us, the term 'beach getaway' would trigger a Phuket, Langkawi, Boracay or even Bali Getaway. But when it comes to a 'weekend beach getaway' from Singapore, especially a short 2 Days 1 Night getaway, there are really not many choices besides Sentosa, nearby Malaysian destinations, Batam, or Bintan Island.
Bintan is one of the most convenient and affordable weekend destinations we can visit to escape from our stressful and crowded Singapore.
One of Bintan's main appeals is its world-class beach resorts, with their pristine beaches, and comprehensive amenities & activities. To many golf enthusiasts, the island is also known to be a golf haven, with some of its top-notch golf courses.
Over the past 20 years, thousands of Singaporeans go on short Bintan trips every weekend. Given its affordability and proximity to Singapore, it has always been and will continue to be one of Singaporeans' favourite weekend beach getaways.
There are increasingly more travellers from neighbouring countries, such as China, India, Taiwan, South Korea, and Japan, who would include a Bintan trip as part of their itinerary on a holiday to Singapore.
As part of the Riau Archipelago of Indonesia, Bintan Island is less than 1-hour ferry ride away from Singapore. It's located on the south-eastern side of Singapore.
There's a slight time difference as it is based on GMT+7, which is 1 hour behind Singapore (GMT+8).
To go to Bintan Island, you would need to take either Bintan Resort Ferry (BRF) or Sindo ferry from Tanah Merah Ferry Terminal.
If you're staying at one of the more upscale resorts in the Northern Lagoi area, you would take Bintan Resort Ferry. Bintan beach resorts that are in and around the Lagoi area include: The Canopi Resort, Nirwana Resort, Mayang Sari Beach Resort, Nirwana Beach Club, Grand Lagoi Village, Bintan Lagoon Resort, Holiday Villa Pantai Indah, Cassia Bintan, Banyan Tree Bintan, Angsana Bintan, and Sanchaya Bintan.
You'd take Sindo Ferry if you're staying in one of Tanjung Pinang city hotels or Bintan resorts that are on the Eastern part of the island. It would take slightly more than 1.5 hours to reach the Tanjung Pinang ferry terminal with Sindo ferry. Bintan resorts and hotels that are accessible from this ferry terminal are Bintan SpaVilla Beach Resort, Bintan Agro Beach Resort, CK Tanjung Pinang Hotel, and Aston Tanjung Pinang Hotel.
Most travellers go to Bintan for a beach getaway. As most travellers are staying for just 2 Days 1 Night or 3 Days 2 Nights tops, they would prefer to spend their entire stay exclusively at the resort and plan their activities within the resort. So it's crucial to choose a resort that offers your preferred activities and has amenities that match your needs.
Of course you could explore the island if you'd like to. You could go for the different Bintan tours such as mangrove tour, fireflies tour, and Tanjung Pinang city tour. Perhaps you'd like to enjoy a game of golf, experience flying on a seaplane, or do some water sports activities.
Do take note that unlike its more popular counterpart, Batam, Bintan has very minimal city / urban activities such as shopping, café / restaurant hopping, etc.
A piece of advice is to select a good resort and spend your stay at the resort.
When it comes to choosing a hotel or resort for your stay in Bintan, it all depends on your main objectives for the trip, your preference, and your budget.
If you intend to try a new experience of staying at a unique accommodation, you could consider resorts that are different from the usual.
For glamping (glamorous clamping) style, you could go for The Canopi. Currently, this is the hottest resort in Bintan. To book for a weekend stay, you might need to book 2-3 months in advance.
For a beach-front chalet style accommodation, consider staying at Mayang Sari Beach Resort. Each chalet is literally on the beach and you can step on the beach the moment you open your chalet door.
Mayang Sari Beach Resort Chalets are especially popular among families with young children who love the sun, beach and rustic nature stay.
For a resort that has a wide array of activities, various accommodation types, and even its own night club, consider Bintan Lagoon Resort.
For a resort that has a huge compound with varieties of food outlets, tons of land and water activities, and both kids and adults friendly, check out Nirwana Resort.
If you have stayed at any of the popular resorts in the Lagoi area and want to explore the more isolated and more 'local' resorts, go for either Bintan Agro Beach Resort or Bintan SpaVilla Beach Resort.
While Bintan SpaVilla is located on a much smaller compound with minimal activities, it offers great sea view rooms and over-the-water suites. Bintan Agro, on the other hand, has a huge compound with tons of activities and various room categories for all types and group sizes of travellers.
Whatever your choice may be, be sure to check our top Bintan packages before deciding on your Bintan holiday.
From Singapore, Bintan island can be reached by ferries. To go to Bintan Island, you would need to take either the Bintan Resorts Ferry or the Sindo ferry from Tanah Merah Ferry Terminal. Each has a fixed daily schedule that offers multiple timings.
Travellers can get Bintan ferry promotions, or the standard ferry tickets, directly from any of the ferry operators' websites. You could then go to any of the major online booking platforms to check, compare, and book your preferred resort.
Otherwise, you could simply get them cheaper and more conveniently from us by purchasing one of our Bintan ferry packages that include a resort stay with breakfast, 2-way Singapore to Bintan ferry tickets, Bintan land transfers, and some additional perks / activities.
In terms of the number of customers we have served and the prices that we are offering, we are the No. 1 Bintan agent in Singapore.
How to Book your Bintan Holiday?
We'd recommend that you get one of our Bintan resort packages instead of booking your hotel stay and ferry tickets separately. You'd not only get the best possible Bintan deals but you'd also have a peace of mind. We are here to serve you and ensure that you and your loved ones have a wonderful Bintan getaway!